In the previous post I presented some really solid, but basic conversation starters. Now it's time for some Portuguese Sentences that are also very common, but more complex.
These are for the intermediate-advanced level learner.
Vamos nessa.
Just as the previous post, these sentences are linked to Google translate, and if you click the speaker icon (green circle) you can hear the robot speak them (really though, it's a fine voice)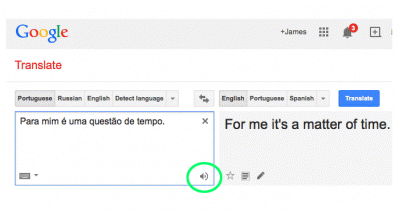 como você já sabe > as you already know
Como você já sabe, muitas pessoas não têm treinamento suficiente para esse tipo de serviço.
Como você já sabe, demora muito para abrir uma empresa aqui.
Como você já sabe, depois da obra o valor do imóvel vai crescer.
se for verdade > if it is true
Se for verdade eu vou ficar feliz.
Se for verdade todo mundo vai comprar.
Se for verdade você pode chegar lá mais rápido, sem dúvida.
eu espero que > I hope that
Eu espero que tudo dê certo.
Eu espero que ela saiba melhor.
Eu espero que consiga tempo para fazer tudo.
na minha opinião > in my opinion
Na minha opinião não tem jeito.
Na minha opinião vai ficar difícil.
Na minha opinião você fez o certo.
não sei direito > I don't really know
Não sei direito, mas nós vamos descobrir logo.
Não sei direito, mas se ele continuar assim, vai ter problemas.
Não sei direito, mas não vou esperar para ficar sabendo.
seria ótimo se > it would be great if
Seria ótimo se você lavasse a louça.
Seria ótimo se eu tivesse mais tempo.
Seria ótimo se pudéssemos ficar mais tempo.
These are all simple, yet powerful and: interesting openers.
You've read these but now you're going to forget them, right? Não. You are going to memorize them using one of my tested and proven methods.