That's what olympic athlete Rafaela Silva said after being eliminated (declassificada) for an illegal Judo move.
And the expression, "cabeça quente" -- hot head is something we would say as well.
What's worth learning from this is that Brazilians use 'cabeça' in expressions all the time.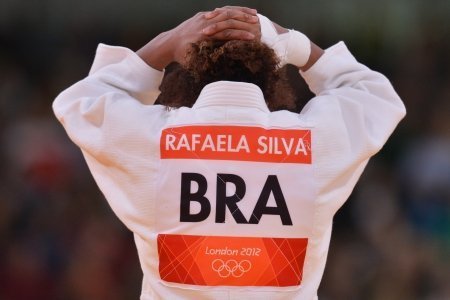 Let's see...
de cabeça para baixo = upside-down
> Depois que ela foi demitida, a vida dela virou de cabeça para baixo.
cabeça cheia = overloaded
> O João está com a cabeça cheia hoje.
levanta a cabeça = lift your head up / be proud
> Levanta sua cabeça amiga. Você fez o melhor que pode hoje!
cabeça dura = stubborn / hard-headed
> Ele é um cabeça dura! Nunca aceita um conselho de ninguém.
cabeça oca = airhead
> Juliete realmente é uma cabeça oca.
esquentar a cabeça = get excited, worried
> O passado já era. Não vale a pena esquentar a cabeça!
cabeça fraca = impressionable
> Ele é um cabeça fraca, nem tem opinião própria.
*** Use 'estar+com' (or, 'estar+de) when it's a temporary situation, use 'ser+um/a' when it's permanent!
> Series 1 will get you squared=away with the verbs SER & ESTAR!